Our First Performance in India
Below are a few very short clips from our performance. These video clips were sent to me from people in the audience that I met after the show. There was a professional photographer there, and I thought that a stationary video camera was also set up to record the live music, but I have not been able to acquire any other recordings of the performance beyond these short clips.
I hope you enjoy this brief glimpse at our first performance in India, July 9th, 2022.
I was nervous to sing in Hindi. This song, Lag Ja Gale, is iconic so the pressure was on and it was the first song of our set! All went well. We also ended our set with another Hindi song , Give Me Some Sunshine, but unfortunately I don't have a clip of that one to share with you.
Luv is on stage with me because later in the song he adds some nice rhythm with a shaky egg, but that wasn't included in this short clip.
This is a clip of our friend Mudra's set. He plays a wide variety of instruments and he was collaborating with a man who does beat boxing. It was actually a very cool and spontaneous moment of the night when Mudra asked the audience if anyone knew what exactly is beat-boxing. A man raised his hand, and for his answer to the question, when he was handed the microphone to reply, he just began to beat-box! Mudra instantly joined in with his mouth harp and the other man also began beat-boxing.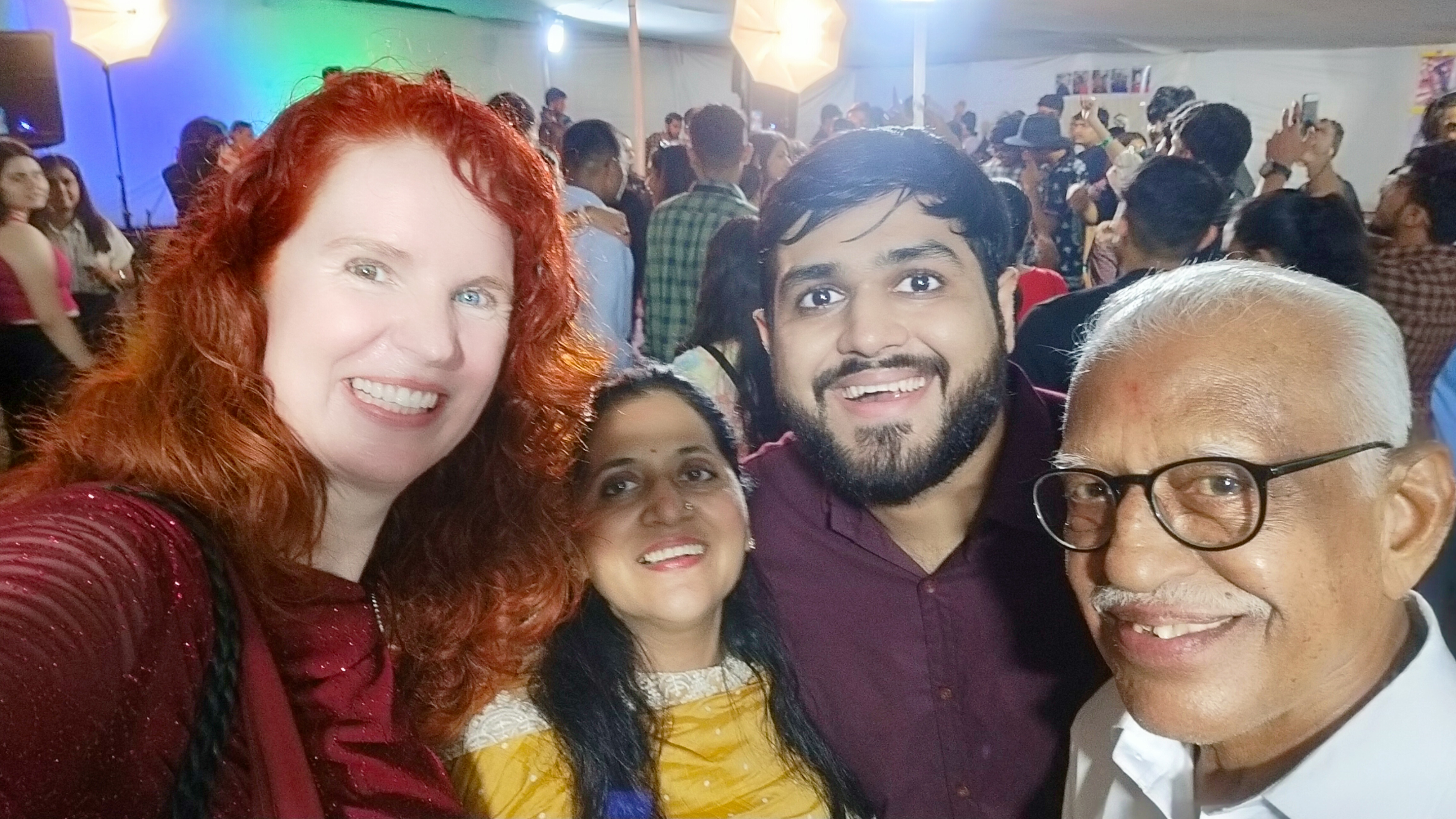 It was a great night. Luv's mother and grandfather came out to support us. However, due to a series of unfortunate events, they ended up missing our performance, but it was still wonderful to see them. (Photo above)
The band that went on after us played popular Hindi songs that got the crowd dancing, including us! It was a lot of fun. If you want to get a good idea of what this event was all about, you can check out the Instagram link below to view a 2 minute video montage of all that was involved in this marvelous evening.
https://www.instagram.com/tv/CgO-rDFIQDl/?igshid=YmMyMTA2M2Y=
If you would like to listen to more of my singing, and hear my original songs too, you can find me on YouTube
https://www.youtube.com/user/jenniferkathleen11/playlists
Complete and Continue